Projections: Comics and the History of 21st-Century Storytelling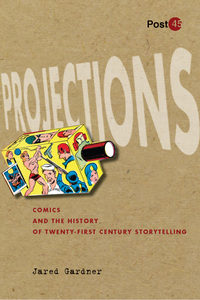 I have spent the last several years thinking about the unique affordances and challenges of the graphic narrative form—with special attention to the communities of readers and practitioners who have gathered around the messy spaces opened up by this uniquely elliptical and inefficient narrative form. In December 2011, my book Projections: Comics and the History of 21st-Century Storytelling was published by Stanford University Press, and this book focuses on the lessons that comics history has to teach us about certain "roads-not-taken" in dominant narrative media of the 20th century, lessons that I argue are of particular value as we think about the future of narrative in the 21st century.
Since completing the book, I have been spending more time thinking through the narratology of comics and the ways in which the study of graphic narrative can be informed by narrative theory even as it potentially complicates some of its central tenets. My first step toward this larger project was "Storylines," my contribution to a special issue of SubStance on "Graphic Narrative and Narrative Theory" that I co-edited with David Herman. Much of my current work with comics has been focused on thinking about the uneasy but productive partnership between narrative theory and comics—and the ways in which graphic narrative requires us always to also keep in mind the properties of forms often presumed to be non-narrative, such as music, poetry and painting.